What inspired the creation of Art4kids?
A spark of creative inspiration hit me when my first grandchild was born and my son asked me to create a large wall art to decorate her bedroom when she was an inquisitive two-year-old, full of wide-eyed wonder. As an artist, I wanted to design something special for my granddaughter and hoped to encourage a love of art as it is an important part of a child's personal development.
My granddaughter Felicity loves creatures and my son suggested that I designed a jungle scene with lots of different animals so that her Daddy and Mummy could tell her stories about them and how they lived. I wanted the artwork to be a fun, visual stimulus as well as education about the natural world. Telling stories every night to children is how they learn about their world and Felicity and my second granddaughter Florence has had a story every night, they are both very bright, happy, sociable little girls who love hearing stories and never tire of hearing the same ones again and again!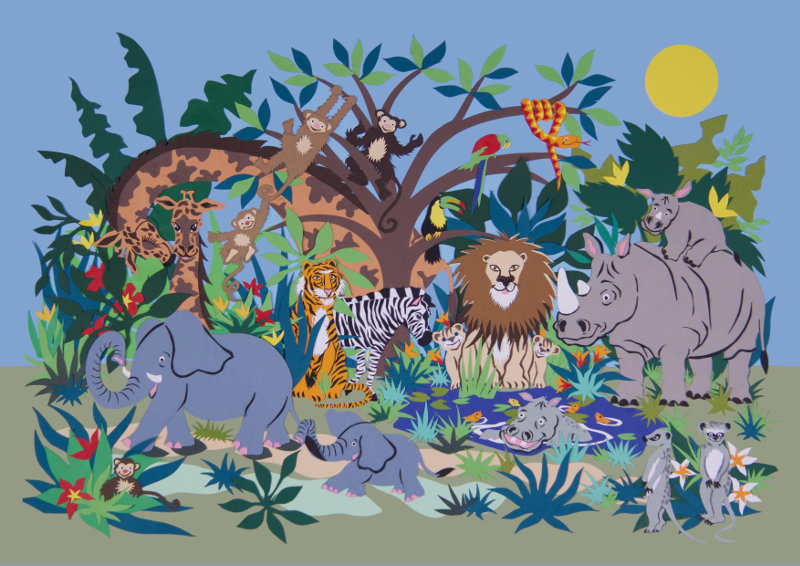 This was the seed behind the idea. To create original, brightly coloured works of art that I hope would encourage parents to tell their children stories around the picture. I also wanted to nurture a desire for children to treasure a picture as a childhood memory, that grows with them as their understanding of the living world grew. I also think that it's never too early to instill a love of art and design in your child, they will become the next generation of art collectors!
Art4kids.gallery was born and continues to evolve from the initial idea of a simple art gallery to creating the Three Worlds of: Creatures, Adventure, and Imagination. We hope they will inspire, excite and encourage children to nurture a sense of fascination in the world of creatures, a thrill for trying new adventures and a sense of wonderous belief in the magic of imagination.
By designing a themed room for your little ones it is a good way of creating a favourite and fun environment for children to grow and learn. We would suggest a wall art and perhaps a matching cushion or pillow, for example, Pirate Jim or Toys Take Tea.
Now, art4kids is growing and evolving to include many new ideas and have recently created child inspired designs from the three galleries on a range of products.
Bespoke Nameplates, as a unique gift for your child, based around your child's name, favourite colours, and other precious things are now also available. This is a personalised gift and I would be delighted to talk with you about a commission.
Have a Look in the art4kids.gallery shop for fun gift ideas for your little ones!
I still believe in fairies at the bottom of the garden!